Location: The Birge Mansion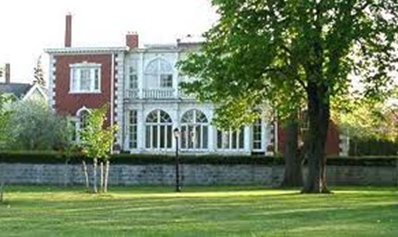 THE BIRGE MANSION
| | |
| --- | --- |
| Built | 1897 |
| Architect | Little & Browne |
| Style | Georgian Revival |
| Original Owner | George K. Birge |
| Current Owner | James P. Verrastro |
The seventeen-room, 12,000-square foot Birge Mansion, among one of the most beautiful mansions ever built in Buffalo, sits on a terrace overlooking Symphony Circle and its spectacular park. It was built by wallpaper manufacturer George K. Birge and his wife Carrie who called it "Circle House." Today, Birge is also remembered for being the employer of watercolorist Charles Burchfield, who designed wallpaper patterns for the company.
The brick and stone mansion was designed in the Georgian Revival style. The entrance of the building is surrounded by a limestone wall and wrought iron gate and features its oversized arched windows that open onto Symphony Circle. Double doors lead to the entrance of a reception hall with white woodwork and a fireplace graced with an ornate Georgian rose marble mantel. The original house included a billiard room and music room on the first floor.
From the reception hall, a stairway with Georgian balustrade leads to a loggia that once held a fountain in the center with a bronze statue of Venus. The ceiling of the loggia is two stories high. The other rooms on the second floor include a ballroom, dining room, and library.
Three generations of the Birge family lived in the house. In 1938 the house was sold to the Sisters of the Divine Child, a religious order. The Sisters made very few changes, although they did remove the statue of Venus and converted the loggia to a chapel. The last half of the twentieth century was harsh to the Birge Mansion, although it did survive demolition. In 1957, The Buffalo Elks purchased the mansion from the Sisters to utilize as a clubhouse. In 1974, it was bought by a private speculator but sat vacant, neglected, and vandalized. After an initial restoration in the 1980s, the mansion struggled to find a new identity.
That all changed when Verrastro bought the mansion to house its law firm. When he bought it in 2004, it was in need of major rehabilitation. Verrastro spent two years restoring and bringing the mansion closer to its original design than ever before. The two-story loggia has been completely restored, Plexiglas partitions have been removed, and the original balustrade with mahogany handrails has been replicated. Ornate interior plaster column caps have also been recreated. Most importantly, the doors from the loggia that open onto Symphony Circle have been restored. The third floor, which once held the principal bedrooms, is now used to house additional offices. The former carriage house is two townhouses that are privately owned. While many of the Buffalo mansions were lost, the Birge Mansion, the most elegant ever built on Symphony Circle, remains as a Buffalo treasure.